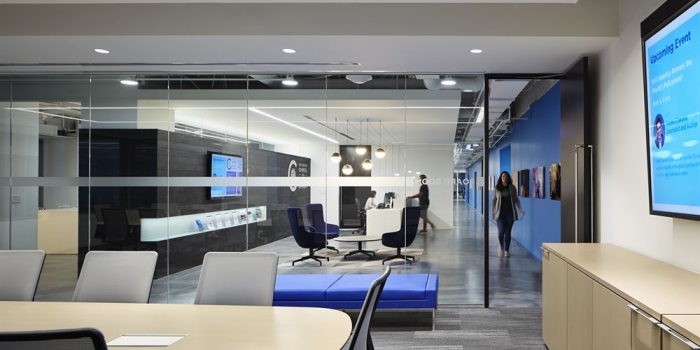 Top 10 Office Design Ideas
While creating office design and choosing office furniture, it is essential to appeal to large audiences and reflect a dynamic working environment. Therefore, how do you design a space plan and then choose an office furniture style?
There are issues to be considered while buying office furniture. When purchasing furniture, office items should be purchased by evaluating various areas such as the quality of the furniture, the material of the furniture and the furniture brand. While doing this, it is important to know the office design styles to create the office concept required for the furniture units to be harmonious.
The shortest way to get a modern office look is minimal design. To create a minimal office, you must first determine your needs. It is necessary to make sure goods and objects in the office are clear. For the simplicity of the office to stand out, the right lighting should be used, and you should not overdo it in accessories. In addition, you need to make the color selection appropriate for the layout of the office and choose harmonious and complementary colors and tones.
Today, thanks to start-ups and entrepreneurs and due to the institutionalization of many brands, office design ideas have started to increase as well as the rate of office ownership. Many companies are looking for a suitable place for the office. However, having a large area for the office is not necessary. Modern and stylish offices can also be built in small spaces.
Some brands have developed styles and furniture suitable for small spaces, and stylish interior office design ideas have emerged. You can also create a minimalist office design that does not narrow the space for your office. In this way, each furniture unit in the office will meet more than one need or will be suitable for more than one use.
Office furniture desks and desk sizes are effective in terms of office furniture space planning. The number, size and placement of desks that your employees will use are at least as effective as their style.
Your employees are happy to work in an office they know is always clean and spacious. Moreover, they can persuade themselves to spend a lot of time in the office. Offices that look clean and bright create a self-confident image.
Catchy and stylish office decoration is very important to solidify the corporate identity of the workplace. Of course, furniture constitutes the largest decoration group in this regard. It is important to choose modern office furniture and to support them with elegant accessories. You must create a stylish and unique commercial office style to increase your customers' trust and interest in your company. Thus, your customers, as well as your employees, will feel your institutionalism and self-confidence.
A loft office can be described as an extensive adaptable open space converted for industrial or commercial use. Such areas are becoming increasingly popular, especially among small businesses, start-ups and creative companies, due to their open floor plans and collaborative nature.
It would be best if you designed your commercial office ideas well to increase the comfort of your employees and the interest of your customers in your company. For this reason, for effective use in a certain area, the style of the furniture is as effective as its shape and size.
Mid-century style refers to the dominant furniture of the mid-20th century, with simple, functional wood pieces made of teak and curved designs predominant at the highest level. However, wood is one of many materials to create mid-century modern pieces. This style features many materials such as wood, metal, glass and vinyl that are often used in tension with each other to create a unique look.
Together with these materials it is often used to create furniture in curved shapes. Colors are also chosen to highlight the furniture units of this style.
Leather Furniture Units in Offices
If you think classic or have a large office, using leather materials in furniture units is effective. The elegance created by the leather allows the office decoration to reflect the classic look easily. In particular, leather seating units make it easy for you to create a stylish, elegant and distinguished atmosphere in your office decoration. Leather materials make the office look high and create an intense user atmosphere.
The leather materials reflect the elegance and noble stance of the classical style to your office's decoration and are one of the options that should be used in classic office design as well. Especially the models with leather fabric in brown and black tones are one of the most saving pieces as they will add an elegant atmosphere to the atmosphere.
Spacious and Breathable Scandinavian Style
There is also the Scandinavian furniture style among office interior design ideas, which often shows itself in the home furniture. The scandinavian style office design style, which is dominated by light colors, is generally used to show narrow and small spaces more spacious. It makes working more efficient as it provides a brighter appearance.
Since it is a simple but stylish style, it shows the environment in a more organized way. Although white is the most common color choice, matte colors are also used as complementary colors. It not only creates an illuminating effect but also makes the area appear wider. Moreover, it creates a stylish and comfortable look.
Colors in Office Interior Design
It would be of great help if you did not forget that colors are also effective when designing the layout ideas of your office. How to select furniture colour and which color is essential for office furniture?
For example, if you want to increase the passion of your employees and use a bold atmosphere in your office, you can choose red tones. Blue and green colors make your office look peaceful, serene and natural. Yellow represents creativity and enthusiasm. Black indicates authority and prestige in your office. White represents cleanliness.
Office walls are at least as effective as the furniture units inside. Both your employees and guests glance at the walls consciously/unconsciously. Naturally, the design ideas you will make on the walls improve your office furniture design.
For the office design to look modern, it is sufficient for the walls to be in light or black tones. Modern office designs consist of icons, vectors and text or graphic designs containing specific messages on the walls. At the same time, these touches make your employees feel productive, concentrated and passionate.
Accessories also play an important role in office design layout ideas. You can create a rich look in your workspace, which you will create with classic office furniture, by giving place to the details in many points of the decoration, where you can spread the retro style to every point. You can emphasize the classic style throughout your study room by bringing together pieces that harmonize with each other and create integrity in decoration.