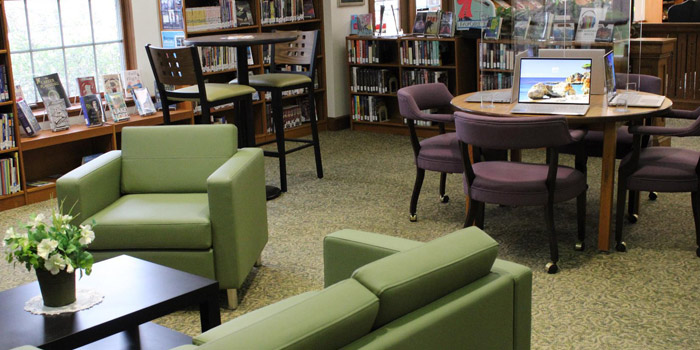 Library Design Ideas for Schools 
One of the subjects that schools should devote the most time to is library design. Libraries are one of the places where students and school staff spend the most time. Library interior design also requires special needs, unlike other interior spaces. They are places where there are books, lesson material etc. which should be quiet for working and should not be affected by external factors.
Therefore, library furniture should be chosen carefully. Library design is a subject that needs to be worked with people who want expertise. You should work with companies that are experts in the field of library design.
Things to Consider Before Choosing Library Furniture
They are places where people work for long periods of time, actively use tables and chairs, need sockets for the energy of their materials such as computers and telephones, noises coming from outside should be low, and therefore they should be well-insulated places. As such, the furniture should be carefully selected and meet the needs.
Tables, chairs and bookcases should be at a level that can serve these purposes. In addition to school furniture market research, we focus on the library. One of the areas that interior architecture is interested in is library design.
10 Design Ideas for a School Library
Here are library design ideas for schools.
1) Color and Light to Inspire
Color and light preferences are one of the most important issues in library design. When the lighting preferences and strategies in an environment are applied incorrectly, it can cause bigger problems than expected. Especially in places such as libraries where hours are spent, and readings are done, one should be sensitive to light. Light intensity should be chosen in a dose that does not tire the eyes.
Warm colors that do not attract much attention and contribute to the ambience should be preferred. To not tire the eyes too much, it should not be too dark or too bright. In terms of sustainability, the damage to nature will be reduced with energy-saving bulbs.
Another light issue is color. The colors of the walls, tables and chairs should not be so intense as to disturb the concentration by the working environment, just as in the case of light. Dark colors should be preferred. A collage should be prepared with dark colors such as black, green and brown, both in terms of inspiration and aesthetically pleasing, and the furniture catalogues in these tones should be checked.
2) Must be Ergonomic Products
We do not want to harm our spinal cord and health during long reading and working hours. Therefore, cooperation should be established with ergonomically thoughtful brands suitable for the human body, as in our products. There are many different catalogues on our website. The chairs must be in an orthopaedic design.
3) Efficient Use Of Space
Libraries are not individual spaces and are at the forefront of common use spaces. Therefore, these common usage principles should be considered both in interior design and using preferred furniture. Long and large tables also allow more than one person to use it.
Here, finding a format where more people can use the same space is important. In short, we call it efficiency. Good results can be obtained with the use of desk chairs with flexibility. Library design should be created according to the people who will use the space.
4) Insulated Walls
Libraries are places where people mostly work, read, and therefore need to be quiet. Of course, design and furniture preferences also have a role in ensuring this silence. Insulated walls and furniture that will not cause noise when moved should be preferred.
This sensitivity has been considered in our Buser Project products and work, especially in the desk and chair sets designed for libraries. Rather than insulation for heat energy, the important point here is to prefer sound-insulated material.
5) Quality Material
It is very important to use furniture made from quality raw materials. Libraries are a place where many people receive services at the same time. Therefore, materials such as tables, chairs and bookshelves are expected to be solid. Products that can be used for many years should be preferred. Market research and pricing are essential for library design.
6) Experienced Brands in the Field
One of the most important tips is to work with brands that are experts in library furniture and have designed libraries many times before. We have also demonstrated its experience in libraries with over 300 interior design projects as Buser Project.
7) Technological Equipment
In libraries, we now see computers, tablets or mobile phones on every desk. People work with these electronic products. Therefore, libraries should be designed to be compatible with these devices. Tables with embedded sockets provide great ergonomics to users.
8) Personal Needs
There should be extra places in the libraries where human needs such as resting between long working hours, eating food and going to the toilet can be met. In order to meet these needs to the maximum extent and comfortably, there will be some materials that we will have to spend resources to purchase. For example, while we should look at the dining table catalogs for a dining room or space, the same desks for study and reading may need to be more efficient.
9) Looking Clean
People want to work in a clean place. You are wrong if you think that cleaning has nothing to do with design. The spaces get a cleaner look with dark furniture choices. Light and furniture color preferences should also be evaluated in terms of cleanliness. Schools make a difference thanks to clean library designs.
10) Should be Minimalist
Libraries are places that do not harm people's focus. In this way, they continue to work efficiently without being affected by external factors. At this point we should consider how to choose library furniture. Minimal designs will always be the better choice. The use of conspicuous visuals on the walls should be limited.
As the Buser Project, we have products and perspectives suitable for all these design ideas, and have contributed to the libraries of schools in 50 countries, including Africa. We are Istanbul-based as Buser Project is a well-established brand with an office in London too. We produce school furniture by the principles we mentioned. Since libraries have many technical and aesthetic requirements, it is essential to work with good and reliable brands. As can be seen in the education presentation tab on the website, www.buserproject.com, we have an approach that meets all these mentioned tips.