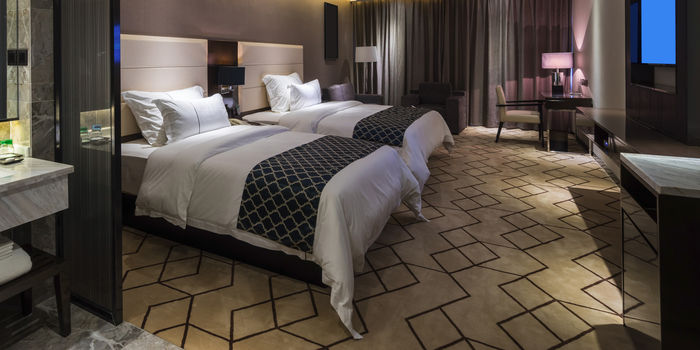 Decor Ideas for Hotel Rooms
Thanks to globalization, the opportunity for people to travel for business and tourist reasons is increasing. Since we are far from our homes during travel, we inevitably seek the comfort of our home. This is not just looking for a nice place to sleep but demanding a comfortable space to rest and spend time. Thus, the comfort and facilities of the hotels are essential for tourists. So, the several questions for generating ideas for hotel rooms are how to decorate a hotel room, choose hotel furniture, and design room layout.
Things to Consider Before Decorating a Hotel Room
Our question is: how to decorate a stylish hotel room? Your guests also want to perform their home routines in their hotel rooms. These routines include a nice shower, quality sleep, and comfortable rest. That's why it's crucial to make your guests feel at home when generating several design ideas for hotel rooms. After all, ideas for hotel rooms should be like a home simulation.
Necessities such as wardrobes for clothes and other valuables, a TV and console, a comfortable bed, a sofa for rest or an ideal desk for study, and quality lighting are essential for styling hotel rooms. Apart from this, besides necessities such as internet, lighting and air conditioning, units that charge their devices and access them faster and more easily are new things that guests pay attention to. It is also desirable that all these features be harmonious in the room's design.
Tips for Decorating a Hotel Room
Minibar, safe box, welcome sets, television, beds, bases, suitcases, telephones, leather materials, office-type trash cans, hangers and cigarette ashtrays on the balcony used in hotel rooms. You can design all your rooms on the axis of these units. However, the harmony of color and texture in the room, the comfortable bed, sofa and tables, new and useful TV and unit and cabinet harmony are the first things that catch the eye in the room. For your room to be welcoming to guests, it must be compatible with all its units.
When it comes to the design of rooms (and lobbies), it's much better to break away from the stereotypes of yesterday and focus more on textures that guests can "feel" and bursts of color that really stand out and are bright. In addition, the lighting of these areas is of great importance. Modern ideas for hotel rooms need to be less boring and more attractive. Hotels achieve this by removing old patterns and introducing modern color/texture trends. This also leads to some interesting and unique designs. So guests no longer forget which hotel they stayed at.
Make It Personal and Unique
Your rooms must look special so that guests feel like themselves in the rooms they stay in. Using specially designed products instead of ordinary and fabricated furniture always makes a place more unique, valuable and eye-catching. While doing this, it is imperative to create a design according to the customer base of the hotel.
Hotels are not just places where your guests sleep. No matter how much time your guests spend in your hotel, they care about the comfort of their time. The most important factor that increases the preferability of your hotel is that your guests, who stay for business trips, see and like the comfortable working area and also the comfortable resting area in your hotel. The relaxation area is designed in areas such as the lobby on various floors of the hotel and in the hotel rooms, serving purposes such as socializing your guests while resting.
The color of the wall, curtains, floor and carpet should display a harmonious image with the plinth and headboard. The hotel concept is the most important element that determines the design of the bedroom. The dimensions of the furniture that will be in the room should be determined according to the width of the area. White, green and brown tones generally dominate hotel bedroom designs.
The Screen of a Work Space
Hotels should serve as sleeping and resting area and a working area. With the spread of global trade, business travel has also accelerated. For this reason, your guests travelling for business tourism must have comfortable areas where they can work.
Your guests' need for a comfortable working space should be met both in hotel rooms and in external areas such as the lobby, and a stylish and comfortable space should be created. In this area, besides furniture units such as tables and chairs, technical infrastructure such as sockets should definitely be present.
Matching the Ceiling and the Floor
If hotel rooms look harmonious and organized at first glance, it will be faster for your guests to adopt the room. Natural and balanced lighting and floor and ceiling colors and decors enhance the elegance of your room. The color and texture of the material used on the floor reveal the quality of your furniture and shape the atmosphere of the room. The fact that the ceiling, which is the opposite of the floor, is in harmony with the floor, completely changes the room's atmosphere.
The elegance and appeal of the hotel room is manifested in the colors, textures and patterns of the bed layering. The type of fabric used is as effective as the layering color and texture to provide a modern room look. In addition, small touches such as creating a difference in layering can effectively make your guests feel special.
Consider Natural Elements
Materials made from natural materials change the atmosphere of your hotel, both on the floor and in the selection of furniture and accessories. Wooden touches and leather materials used to a certain extent both make your hotel look stylish and increase the belonging of your guests to your hotel, and it makes your guests feel comfortable.
Wall decoration shapes the identity and atmosphere of the room in hotel rooms, and it is at least as effective as the curtain and complements the floor's and ceiling's harmony. The panels to be applied on the walls both create the room's intimacy and increase your guests' belonging to your room.
Invest in Stylish and Custom Storage
Your hotel guests use cabinets, safes and consoles to store their belongings. The stylish and functional nature of these units increases the belonging of your guests to your hotel. It also makes your hotel look stylish and attentive. Your guests will also have positive feedback about your hotel.
In order to distinguish your hotel from others, both providing a layout in the rooms and achieving a general design style will earn high points in the eyes of your guests. Patterns are not only limited to wall decoration, furniture style, or layering but can also be used to define a general style. It would help if you created a certain pattern for your hotel to look attentive and stylish, which will significantly support your hotel's institutionality. In addition, the multiplexing of design ideas for hotel rooms on the axis of a certain pattern and color line highlights the uniqueness of your hotel.