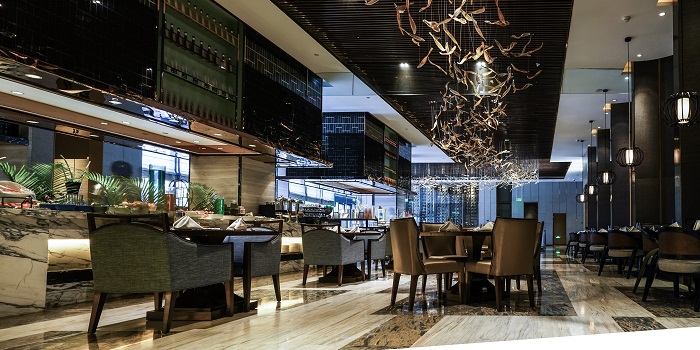 9 Tips for Restaurant Interior Designs 
In modern times, many entrepreneurs have combined their bright ideas with technological developments and applied them in their restaurants and have achieved good results. For people, delicious food ceased to be the primary motivation and was replaced by the purpose of going to the restaurant as an experience. The recipe of the dish, what kind of place it is and what its concept is became more important than the ingredients put into it.
Especially with the increase in the use of social media, people's expectations from these places have changed considerably. Therefore, restaurant decor ideas have been changed too.
Here are 9 tips for restaurant interior design ideas:
Give Guests a Warm Welcome
A good welcome not only makes the whole evening enjoyable, but also positively influences the customers' impression of the place. Imagine experiencing the warm welcome we experience when visiting a friend's house in a restaurant. This will be great for both the place and the customers. It may be necessary to design a special area in the lounge for this welcome.
A cloakroom where we take delivery and keep the coats of the guests and their personal belongings that they do not want to carry while eating can be very useful. In addition, bistros can be preferred for short conversations with guests for reservation control and other questions. We see this practice a lot in modern restaurant interior design ideas.
Create an Accent Wall
We see one accent wall in every restaurant interior design with a stylish and modern take. This wall summarizes the identity, theme and target audience of the place and should be separate from the rest of the space. It can be equipped with works of art or work on color with a more minimalist approach. A design that will attract the attention of guests looking from the outside will be more beneficial for the owners.
Accent walls will give a less risky result when considered by experts in the field. One of the most memorable features, especially with high-profile customer bases, is that they have good qualified accent walls. Although it seems like we don't need any furniture to create an accent wall, there are still countless materials for that in modern restaurant interior designs.
Feel at Home
Undoubtedly, no one wants to eat in a place where they do not feel comfortable. At this point, it is very important to seek a way for guests to feel comfortable and at home. In order to create this intimacy, the restaurant interior design is as important as the staff working in it.
It may be a good idea to place sofas in non-eating areas, like the living rooms in our homes. But the restaurant furniture is not the only solution here.
Colors Affect Us
According to research conducted in recent years, some colors are known to make us hungry. For example, the color red is a color preferred by many fast food chains both in the logo and restaurant interior design, as it increases the appetite.
As Buser Project, we have shown good examples of the use of color in many restaurant projects that we have successfully completed before. It is necessary to use the colors of the logo and theme of the brand you create in different parts of the place.
Resort to Art
Classical works of art can be hung on the empty walls of the restaurant, which will make the place look more modern and make the guests who spend time inside happy. From the walls in the corridor leading to the toilet to the walls that you can watch while eating, every free space should be evaluated. While choosing the work, turning to original paintings both supports the artists and ensures that the atmosphere in the restaurant is more original.
Not Without Music
As in any venue, good music is undoubtedly essential for restaurants as well. Music playlists that will not disturb the guests but increase their appetite should be preferred. It is very important to get help from experts in this regard. No one will want to eat in a place full of speakers and wires. The aspect of music that concerns interior design is its ability to hide all this technical equipment. When eating, external factors need to feel organic.
Privacy Zone
Although not found in all, places that offer areas that are special to the person and his family have been very popular in the world in recent years. People who are more privacy sensitive, like celebrities or conservative people, will feel much better in this type of restaurant. While choosing restaurant furniture such as tables and chairs in the halls reserved for families, more individual preferences can be included.
Home furniture catalogs should be looked at, where people will feel like they are eating in a corner of their own home. You can see many alternatives in the catalogs we created as Buser Project, both for the general use of the restaurant and for the special areas we mentioned.
Toilets Away
Having toilets at the same time in a hall where people eat will be disturbing in terms of smell and is not at all hygienic and healthy. Here, the responsibility lies with the person who undertakes the interior design of the restaurant.
They must deftly separate the toilets from the dining room. Darker colors should be preferred in the interior design of the toilets and if possible, the music should continue in this area. It should be in a way that does not harm the theme of the restaurant.
Specialized Parts
Sometimes a romantic dinner, business meeting, or birthday celebration with a friend, restaurants are used for many different purposes. But does it make sense to have the same tables and chairs for these different purposes?
Restaurants that specially space and design for a business meeting are always one step ahead. Just as hotel furniture is chosen according to the purpose of the hotel, this also applies to restaurant interior design. Placing sofas, leather armchairs and coffee tables in the non-eating parts of the restaurant will greatly increase its functionality.